Part 1 of this series deals with issues we faced related to components of our product. For the foam it was an issue of quality and scalability, and for the clip it was simply one of quality. A more experienced team would have already considered these issues prior to launching the Kickstarter campaign. Unfortunately we had to learn these lessons first hand.
The Foam:
Problem: All of the foam liners on the iPad clipboards had to be hand cut by members of our team in a time consuming and often inexact process. We next had to hand glue, using spray glue, each individual foam piece to the flat clipboards in an additional time consuming and often inexact process. Then we would take the flat clipboards with the foam glued on to the manufacturer where they would be bent into shape and have the clips riveted on. This was one of the reasons for our shipping delay because it took much longer to do this than we had anticipated.
Solution: We needed to find a new foam supplier who could pre die-cut the foam into the exact shape we needed, and apply a self-adhesive backing (kind of like a sticker). Not only would this speed up manufacturing but it would also prevent the foam from ever becoming unstuck to the inside of the clipboard (which is something that happened on some of the original clipboards). I requested samples from a ton of suppliers who met our requirements and selected one of the highest quality foam liners they offered.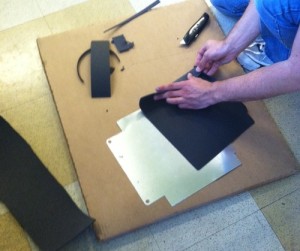 The Clip:
Problem: While the clip was one of the more trivial problems we faced, it was still an issue nonetheless. We received a decent amount of feedback saying that the clip felt cheap, had some functionality issues, and made a scratching noise when in use.
Solution: We found a new clip. This was also a little easier said than done, as we not only wanted to find the best quality clip available but also one that was made in the United States. Most clipboard clips available are cheap and almost all of them are made in China, but after a long search we found a company based out of New York that makes awesome clips.
The lessons to takeaway from this post are that you should absolutely consider scalability of manufacturing before launching your campaign. One reason being that you will need to have a scalable solution in order to make a business from your successful campaign. And the other reason being that you never know how many units you will need to produce as rewards, so you better have a plan in place to meet the demand.