As most of you have probably heard by now, Apple just released their latest iteration of their iPad, the iPad Air. Unfortunately Apple neglected to run it by us first, which was rather inconsiderate of them since we released our product just a few weeks later.
We've received a lot of questions asking if the product would fit with the Air, and so far I have only been able to say "I'm not sure, but most likely not." However as I received more of these questions I figured it would be worth it to our potential customers if we could provide a better answer. I went out and purchased an iPad Air today to test it first hand.
Please excuse the rough quality of these pictures…
Here's the iPad Air at my desk next to Clipboard+ when I was opening the box.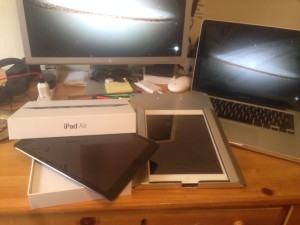 This is the iPad Air sitting on top of my iPad, you can see how much narrower it is.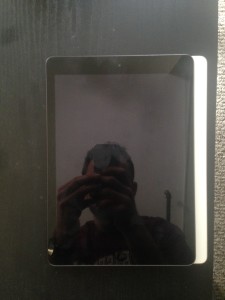 I tried it out in the clipboard, but it was too small since we made the clipboard dimensions perfectly designed for the other versions of the iPad.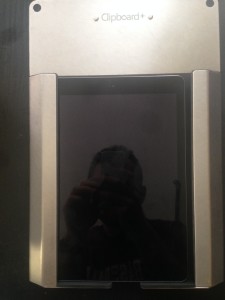 Will we make one for the iPad Air?
The answer to that question is yes, but I can't give an exact timeline. We just released the current version today. We have plans to make additional versions for the iPad Air, iPad mini, other non-apple tablets, etc. If you sign up for the mailing list located in the footer of our website we will be sure to update you as soon as we have more information about new products. Thanks for understanding, in the meantime, save the environment and stick with your current iPad so you can use Clipboard+!